whiblo – your partner in business
whiblo is an internal channel for reporting undesirable situations and violations of the law in your organisation. Can you afford not to know what is going on in your company?
71% of respondents from private entities and 58% of respondents from public entities in Poland believe that encouraging employees to report wrongdoings offers an opportunity to identify weaknesses in the organisation and to avert risks.*
Solve problems before they go public and manage financial and image risks!
*Source: "Whistleblower protection – employee awareness and practices in companies in Poland" – a survey conducted in April 2021 by ARC Rynek i Opinia on behalf of braf.tech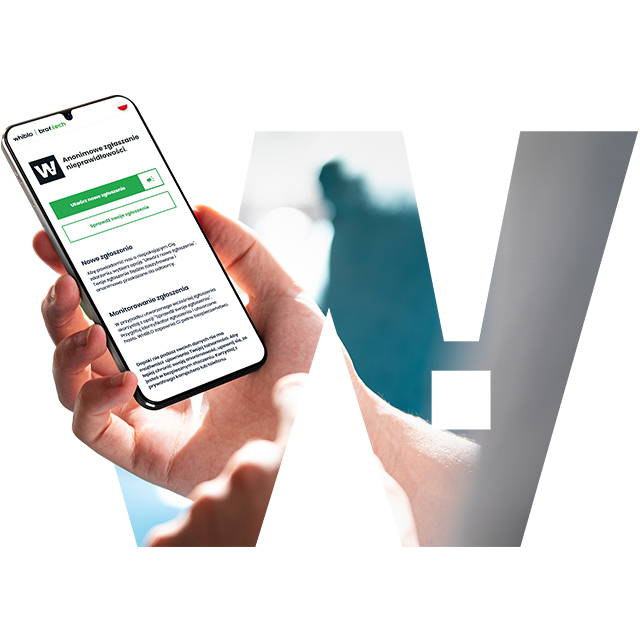 Developed based on the latest IT technologies, the whiblo application is an effective tool supporting organisations in complying with legal requirements when receiving and handling anonymous reports of problems and irregularities.
compliance with Directive (EU) 2019/1937 of the European Parliament and of the Council on the protection of persons who report breaches of Union law (the so-called "whistleblower protection directive")
compliance with the Polish Act on Preventing Money Laundering and the Financing of Terrorism (the AML Act)
compliance with the Polish Personal Data Protection Act (and the GDPR)
Did you know that
46% of businesses in Poland have been affected by economic crime and one in three Polish companies say they have suffered losses in excess of PLN 4 million in the 24 months preceding the survey [PWC, Global Economic Crime and Fraud Survey 2020]
50% that is how much lower fraud losses were reported by organisations with functioning whistleblowing procedures compared to organisations without such mechanisms [ACFE, Report to the Nations 2020]
whiblo is employee-friendly
whiblo is an intuitive, easy-to-use and efficient solution that guarantees complete anonymity to employees, therefore giving them a sense of security and reporting comfort not provided by other communication channels, such as a letterbox, the company email account, a web-based form, or a telephone line.
By eliminating the fear of whistleblower identity recognition, you gain the benefits of employee involvement in building a safe and stable work environment and their care for the company's reputation.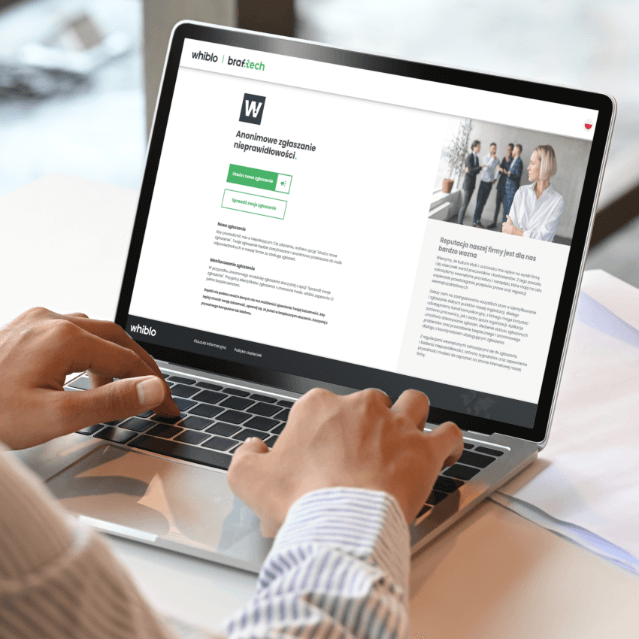 Other benefits
The whiblo application has been developed in a cloud computing environment and is offered in the SaaS model (software as a service). As a result, it does not require a complicated roll-out process and does not encumber the IT infrastructure of your organisation. The basic version is available in Polish and English.
A must-have tool for:
identifying and eliminating weaknesses of organisations
enabling you to promptly address irregularities within the company
building trust among employees and business partners
Step by step
How does the whiblo app work?
1
Step 1
Running the whiblo application on a server independent of the client
2
Step 2
Entry by a whistleblower to the website of the whiblo application and creation of a notification in accordance with the rules of confidentiality
3
Step 3
Receiving and handling notifications by persons designated by the client - safe access to the application and use of its functionalities thanks to double authentication
4
Step 4
Conducting a safe and anonymous dialogue between the whistleblower and the coordinator handling the notification
5
Step 5
Keeping a register of notifications, generating reports and archiving notifications and documents
6
Step 6
Ability to export data from the whiblo application
What are whiblo's main features? It is…
Universal
a system to suit any organisation, regardless of its size or branch of industry, accessible 24/7 from a PC or a mobile device
Secure
it encrypts the connection between the whistleblower and the server and encrypts the data on the server, which is an ISO 27001 certified server located in the EU
Anonymous
thanks to the use of IT solutions that prevent disclosure of the whistleblower's identity, with access to the application being provided to designated persons only
Responsive
it enables anonymous dialogue between the report-handling coordinator and the whistleblower without the need for any contact details to be provided
Easy to use
intuitive and uncomplicated for the whistleblower, it enables reports to be handled efficiently by designated persons within the company
Configurable
elected functionalities can be individually configured on request